---
---
This item is dispatched separately when you buy with other items.
A cloth especially made for collectors by record accessory specialists to clean vinyl records.
This is a wiping cloth made with a newly developed special non-woven fabric for record cleaning.
It is slightly different from common non-woven cloths, as it was specifically developed for vinyl records.
This cleaning cloth is cut from a 100% cellulose long non-woven fabric piece. The materials used is cotton linter, a soft and short fiber found around cotton seeds that makes a soft cloth which will not scratch your records.
While the fiber of products made of polyester and other synthetic textiles is not liquid absorptive, cotton linter's particular fiber structure allows it to absorb 13 times its own weight of humidity. With its high moisture holding capacity, it is a perfect choice to wipe off liquids.
It will absorb the impurities which rapidly appear with moisture.
One of its great characteristics is that with low impurities and low particle performances (low fibrillation / few micro particles), the fiber does not loosen or wear out, and it does not leave any dust when you wipe your records.
Even KimWipes, which are used in university research as well as in many other sanitary facilities to clean test tubes and instruments, pale in comparison with the softness and water absorbency of this record cleaning cloth.
Made only from cotton, a natural material, this non-woven fabric remains perfectly soft, and any other polyester-type non-woven cloth clearly fall one step behind.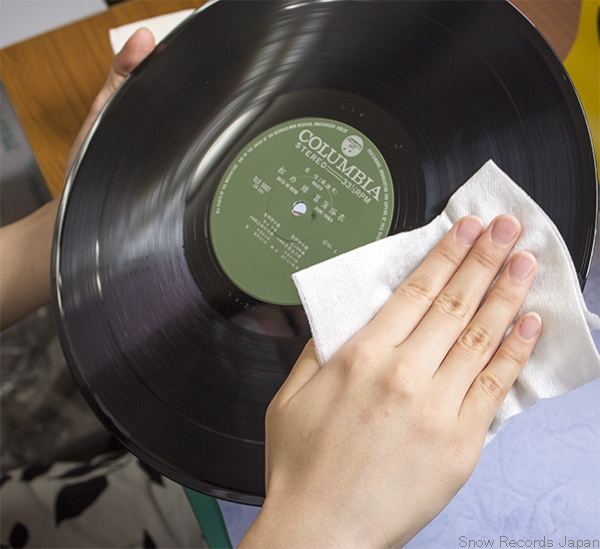 Your records will shine bright!
Moreover, this fabric is strong.
You do not have to throw it away after wiping one record.
You can wipe clean many records with one cloth.
It can be used multiple times, so by washing it each time you can clean as much as ten LP's.
Each box includes 50 cloths, so if you wipe 500 LP it will cost you approximately 2JPY per record.
That is exactly 1 JPY per side.
As there are no additive agents, oil, or binder used in the manufacturing process, the cloth is solvent-resistant and it leaves close to no impurity when used with solvents. It does not just move the impurities when wiping. We can guarantee this cloth is durable: even if you let it soak a whole day in acetone, an organic compound solvent widely used in its liquid form, the fiber will not melt.
It is also heat-resistant and static-resistant.
Your record will really shine like new after cleaning!
Ah, this beautiful shine. To any vinyl enthusiast, it's a moment of bliss.
Record accessory specialists created this cleaning cloth for collectors after many unsuccessful attempts.
This is an easy to use product that will satisfy anyone from beginners to passionate collectors.
Your collection will be even more beautiful by using these Antistatic Gloves Made Especially for Vinyl Records.
Be sure to try this once!
<Materials>
 - Cellulose
<Country of origin>
 - Japan
<Specifications>
 - Size: 250 x 250 mm (Folded: 125 x 125 mm)
 - Quantity: 1 box of 50 sheets
---
Una tela exclusiva para limpiar discos de vinilo ofrecida por una empresa de venta de discos para los coleccionistas de discos.
Paño de limpieza hecho de una tela no tejida especialmente desarrollada para limpiar discos de vinilo. 
A diferencia de otras telas en el mercado, esta está especialmente diseñada para la limpieza de discos.
Este paño para limpiar es producido a partir de una fibra continua larga de tela no tejida de 100% celulosa. En búsqueda de una suavidad que evite dejar huellas sobre el disco, se ha utilizado línter de algodón, la fibra corta que se encuentra alrededor de la semilla, como materia prima.
A diferencia de los artículos de poliéster u otras fibras sintéticas que prácticamente no tienen capacidad de absorción, la fibra hecha a partir del línter de algodón tiene una extraordinaria capacidad de absorción de hasta 13 veces su peso, así como una alta capacidad de retención de líquido lo que la hace altamente recomendable para limpiar líquidos.
¡Cómo absorbe el sucio y el líquido!
Tiene como característica poco contenido de impurezas, poco contenido de partículas (pocas fibras sueltas/pocas micropartículas) por lo que, al momento de limpiar, no queda polvo o fibras. 
Comparándola con Kimwipe, ampliamente utilizados en laboratorios de universidades y en instalaciones sanitarias para limpiar tubos de ensayo y otros equipos, la suavidad y capacidad de absorción son superiores.
Es posible que sean menos suaves que otras telas no tejidas que contienen fibras de poliéster, pero siendo una tela no tejida fabricada exclusivamente de materiales naturales como el algodón, tiene suficiente suavidad. La absorción y retención de agua es extraordinaria.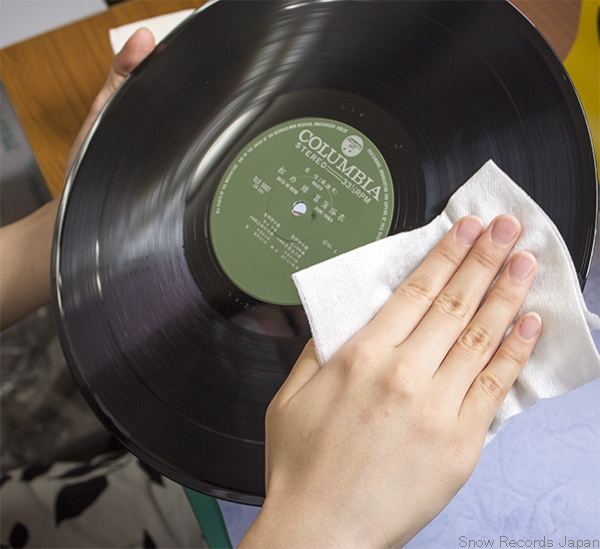 ¡Poco a poco va quedando muy limpio!
Además es muy resistente.
No lo deseche después de limpiar un solo disco.
Con un solo paño puede limpiar muchos discos.
Uselo y lávelo después de cada uso, de esta manera podrá utilizarlo para limpiar unos 10 discos.
Cada caja trae 50 paños, por lo que le alcanza para limpiar hasta 500 discos de vinilo. Cada disco puede ser limpiado por aproximadamente 2 yenes.
Exactmente 1 yen por cara.
Durante el proceso de manufactura, no se han utilizado aditivos, aceites o aglutinantes por lo que tiene una excelente resistencia a los disolventes. Por eso, al utilizar disolventes no hay producción de impurezas que pudiesen quedar sobre el disco.Al realizarse la prueba de sumergir por un día entero este paño en un compuesto orgánico disolvente ampliamente utilizado como la acetona no se observó disolución de las fibras, demostrando que la estructura es estable.
Además es resistente al calor y difícil de cargarse eléctricamente.
!Qué reluciente queda después de limpiarlo!
¡Qué maravilloso brillo! Es un momento de felicidad para el coleccionista.
Tras muchos ciclos de ensayo y error esta tienda de venta de accesorios para discos de vinilo ha logrado producir este paño para limpieza exclusiva de discos y lo ofrece a los amantes de los discos de vinilo.
Desde el principiante hasta el más exigente coleccionista de discos gramófonos puede utilizar fácilmente este paño y quedará ampliamente satisfecho.
Si lo utiliza en combinación con los guantes antiestáticos para uso en discos de vinilo, estamos seguros de que podrá conservar en excelente condición los discos de su colección. 
Pruébelo una vez.
<Material>
- Celulosa
<País de origen>
- Japón
<Especificaciones>
- Medidas: 250mm x 250mm (doblado en cuatro 125mm x125mm)
- Cantidad: 1 caja contiene 50 paños
---
- Images
All product Images are sample.
Sample images are used for same items.
It may have different design.
Condition is different.
Please be sure to see the description.
We don't accept about image issues.
- Please Note About Import Duties and Tax
To international buyers, Import duties, taxes and charges are not included in the item price or shipping charges.
These charges are the buyer's responsibility.
Snow Records Japan do mention correct value on invoice.
Please check with your country's customs office to determine what these additional costs will be prior to buying.
These charges are normally collected by the delivering freight (shipping) company or when you pick the item up - do not confuse them for additional shipping charges.
- In/Out of Stock
We are selling same items on many other places at the same time. In rare cases, some items are already sold and out of stock even if listed on this website. 
When you wanna cancel whole items if the specific item is already sold, please let us know by "Order Instructions/Comments" at order process. Otherwise we ship other in-stock items immediately after your payment. Overpayment is refunded, of course.