---
---
You certainly won't dust away your pride as a vinyl record collector, but you definitely don't need any dust on your vinyl records.
Dust, go away! Precious music, be there forever!
The appearance of an LP record sleeve (inner sleeve) utilizing a special coat.
The nonwoven fabric with a special static electricity reducing coat prevents dust and dirt from adhering to the record.
 Using this product is the definition of simple.
You just insert the record and store it. There is no need to do anything else after that.
Simply by doing this, the sleeve will absorb static electricity, and maintain the surface of the record in the best possible condition.
Isn't it so useful? Isn't it so easy? We also recommend this to collectors who tend to neglect maintenance of their records.
Of course, this is not the kind of product that will improve things without taking any care of the record at all, but because it makes it difficult for dust and static electricity to stick to the record, the time required to remove this is reduced and you will receive an impression of ease when you actually try using it.
Is this not a fascinating product for those collectors who want to achieve a reduction in maintenance time? 
You store the thoroughly cleaned record in this anti-static soft sleeve in the same manner as the original sleeve (inner sleeve).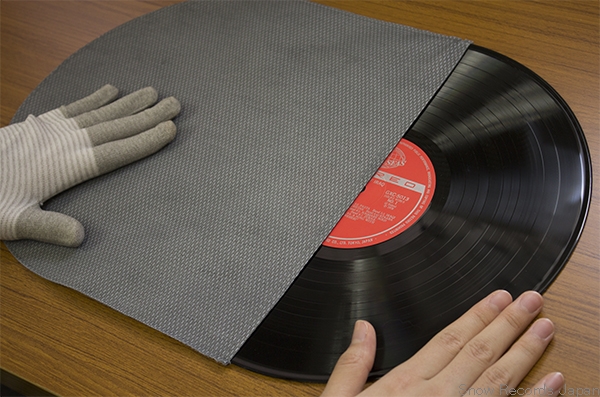 It is snugly made in order for the sleeve and record to make firm contact with each other, so there are times when the record gets caught in the sleeve and becomes a little bit difficult to insert.
It is a little tight.
When this happens, don't rush, don't panic, just slowly and gently insert your valuable record into the sleeve.
After you have pushed the record in half way, the rest will go in quickly and easily.
Just like this.
You can keep it in the paper jacket just as it is.
With the above, the work is finished. By doing only this, the sleeve will keep the record in a close to freshly cleaned condition for you.
What's that? Cleaning your records is tedious?
There's no need to worry. This product is convenient for those collectors who have a total labor saving policy.
At times when using other cleaning tools is tiresome, you can directly wipe the surface of the record with this product and put it away just like that.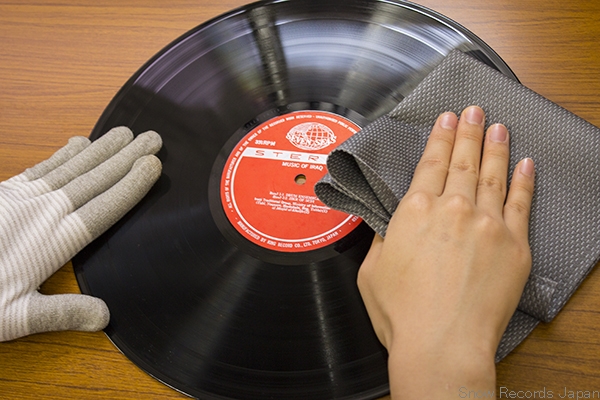 When cleaning directly with this product, please only wipe using the outside of the sleeve.
If you don't try to maintain the inside of the sleeve in a clean condition, the dirt will just come back upon storage.
We were told by the manufacturer that they do not recommend washing this product as it is made from fine, nonwoven fabric. However, when we once tried gently washing it by rubbing it under running tap water at our store, although it became slightly stretched we were able to reuse it without any particular problem. It may be possible to keep using the sleeve even if it is washed, up to around one or two times.
If you do wash it, please only use it after drying it completely.
Because the material is unwoven fabric, if you keep it in the jacket with a record inserted into it, you may also expect it to prevent stains on the jacket by absorbing excess moisture.
The envelope opening.
The reverse side of the envelope opening.
The seam.
The reverse side of the seam.
The bottom seam.
It is quite robust.
Reassuringly made by Kojo Technology Co., Ltd.

When we inquired with a representative of Kojo Technology, we were told it is "made in Aomori!" Somehow, we feel like supporting them!
Because the price per sleeve is a little on the high side with this product, it may be tough financially to use one on all of the records you own.
We are very aware of the difficulty for all record collectors of the trade-off between funds that have to be used for record collection and the funds used for maintenance expenses. 
Therefore, one way of using this product may be to restrict using it to only your "only this one!" killer items; the precious pearls of your collection.
By all means, please try it out.
<Country of Origin>
- Japan (made in Aomori prefecture)
---
El coleccionista de discos de vinilo no soporta la presencia de polvo sobre los discos.
¡Adiós al polvo! ¡Conservar la calidad del sonido es primordial!
Ha llegado al mercado una funda (interior) con un revestimiento especial para guardar discos LP.
Hechas de un material no tejido con un revestimiento especial que atenúa la electricidad estática, previenen la adherencia del polvo y otras partículas al disco.
Muy sencillas de usar.
Solo tiene que introducir el disco en la funda. Nada más.
Solo con esto la funda absorberá la electricidad estática, manteniendo la superficie del disco de vinilo en condiciones óptimas.
Conveniente e interesante ¿verdad? Recomendadas especialmente a los coleccionistas que no pueden dedicarle mucho tiempo al mantenimiento de sus discos.
No pretendemos decir este producto hace innecesario el cuidado de los discos, pero al proteger los discos del polvo y de la electricidad estática mientras están guardados, ahorra mucho esfuerzo y facilita el mantenimiento de los discos de vinilo.
Estamos seguros de que los coleccionistas de discos de vinilo estarán encantados con un producto que ahorre tiempo de mantenimiento.
Después de limpiar a fondo el disco, solo tiene que introducirlo en la funda suave (interior) con atenuación de la energía estática como si lo hiciese en una funda normal.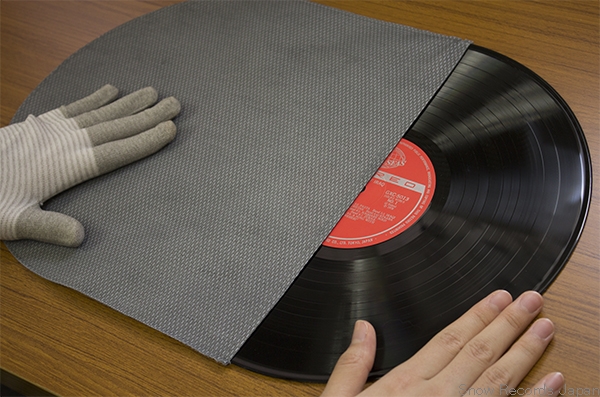 A fin de asegurar el contacto entre el disco y la funda, el tamaño de la funda es ajustado. Puede que sienta que es difícil introducir el disco.
Un poco ajustada.
Con paciencia, sin prisas, introduzca su amado disco con mucho cuidado. 
Una vez que ha entrado la mitad del disco, el resto es fácil. 
Así queda.
Ahora puede guardarlo en su cubierta de papel.
Eso es todo el procedimiento. 
Así podrá conservar sus discos en una condición muy cercana a recién limpiados.
¿Cómo dice? ¿No le gusta limpiar los discos de vinilo?
No se preocupe. Este producto está llamado a satisfacer al coleccionista menos activo. 
No hay que buscar otro paño para limpiar el disco, límpielo con esta funda y guárdelo en ella.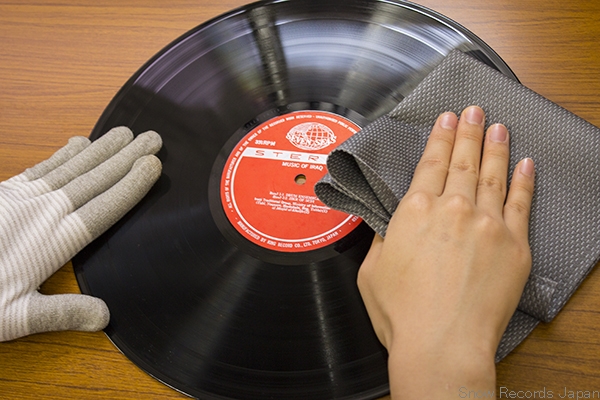 Cuando vaya a utilizar esta funda como paño para limpiar, use solo la parte externa. 
Si no mantiene el interior de la funda impecablemente limpio, al guardar el disco, éste se ensuciará otra vez.
Las fundas están hechas de una tela no tejida muy fina, y el fabricante no recomienda que se laven. Sin embargo, nosotros hicimos la prueba de lavarlas a mano con cuidado con agua del chorro y aunque se observó cierto cambio en la forma, fue posible volver a usarla sin ningún problema en especial. Quizás pueda ser lavada una o dos veces.
Si la lava, asegúrese de secarla completamente antes de utilizarla.
El material es una tela no tejida, por lo que cuando se guarda el disco en la funda y se introduce en la cubierta, la funda absorbe el exceso de humedad y previene las manchas en la cubierta.
Entrada
Revés de la entrada
Costura
Revés de la costura
Costura del fondo
Es muy resistente
Con la calidad de Kojo Technologies Co.
En conversación telefónica con la persona a cargo en Kojo Technologies Co., nos ha informado que el producto es ¡Hecho en Aomori! ¡Queremos apoyar los productos locales!
En realidad el precio unitario de este producto es un poco costoso por lo que quizás sea difícil usarlo para todos los discos de una colección.
Para un coleccionista, los gastos en reunir la colección y los gastos en mantenerla pueden llegar a ser considerables. 
Por eso le recomendamos que seleccione aquellos discos que le son más queridos, los más importantes de su colección y los proteja con este producto.
Esperamos que pruebe este producto.
<País de origen>
Japón(Prefectura de Aomori)
---
- Images
All product Images are sample.
Sample images are used for same items.
It may have different design.
Condition is different.
Please be sure to see the description.
We don't accept about image issues.
- Please Note About Import Duties and Tax
To international buyers, Import duties, taxes and charges are not included in the item price or shipping charges.
These charges are the buyer's responsibility.
Snow Records Japan do mention correct value on invoice.
Please check with your country's customs office to determine what these additional costs will be prior to buying.
These charges are normally collected by the delivering freight (shipping) company or when you pick the item up - do not confuse them for additional shipping charges.
- In/Out of Stock
We are selling same items on many other places at the same time. In rare cases, some items are already sold and out of stock even if listed on this website. 
When you wanna cancel whole items if the specific item is already sold, please let us know by "Order Instructions/Comments" at order process. Otherwise we ship other in-stock items immediately after your payment. Overpayment is refunded, of course.